After waiting for more than a month,Ram finally collected the videos
taken during his wedding. It consists of 2 DVDs and the videographer
gave 3 sets which is to be given to his in-law's, his parents and another
one for himself. He had no problems watching the first DVD disc but when it
comes to the second disc, there was a part somewhere in the middle
where his DVD player couldn't read because it was jerking and he had to
fast forward to skip that part. Even his in-law's complained that both
disc had the same problem. He checked and there are no fingerprints nor scratches at the bottom
of the DVD disc. Since there are 2 DVD players that had problems
playing the DVD disc, He suspect that the videographer somehow burn the
disc wrongly or maybe used the fastest burning speed. Before He call up
the guy to complaint on the problem, it is best that he first test the
DVD disc and see whether it is the disc or player problem. As far as I
know, there is an option to verify the files after burning a disc with
Nero, but I couldn't find a way just to verify a disc. After doing a
little research, I found that VSO Inspector can test medias such as CD
and DVD.
VSO-Inspector
is a free software to report various
information about your hardware configuration. Using this freeware, you
can check the listed cd and dvd readers and writers connected to your
computer, check the firmware used. The details about the media used and
the speed supported by a given writer with this media. Also you can
scan a burnt media for read errors and be confident about the
readibility of your fresh backup.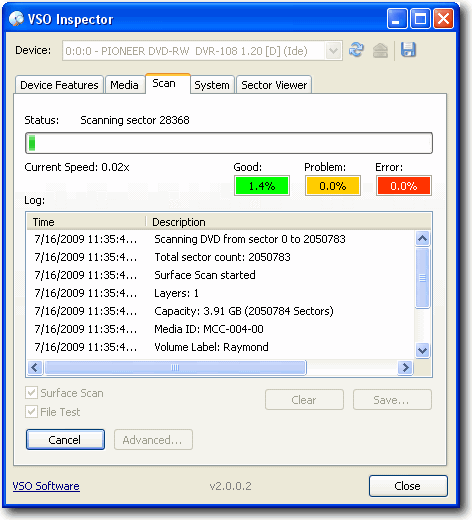 The good thing about VSO Inspector is it scans your DVD or CD using two methods which is the surface scan and file test. Surface scan is to make sure that every sector on the disc can be read and the file test is to make sure that the file is intact and not corrupted. If VSO Inspector doesn't show any problems or errors during scanning, your disc is definitely a good one.
So far I've scanned 4 DVDs using VSO Inspector and found no problems with it. Now I know it's not the problem on the disc but on the player. What I can do now is to try burning another copy using a better quality DVD disc and also with a slower speed. Burning a disc with a slower speed helps a lot in giving the disc a better compatibility and readability.
[ Download VSO Inspector ]